Corporate Christmas Cards
Are you looking for corporate Christmas cards that will leave a lasting impression?
Now you can supercharge your cards by planting a tree for the recipient!
While most of our clients are looking for corporate cards for Christmas, we also offer any occasion cards to sell alongside your products, to give to employees on their Birthdays or to say thank you to loyal customers.
1 Tree Cards are the perfect option for businesses looking to be more socially responsible and up their eco game. Our cards, envelopes and seed tokens are 100% recycled and printed with renewable energy and vegan inks.
*Christmas Deadline – November 4th*
All corporate and bespoke orders must be paid for and have their print files approved by November 4th to arrive at the beginning of December.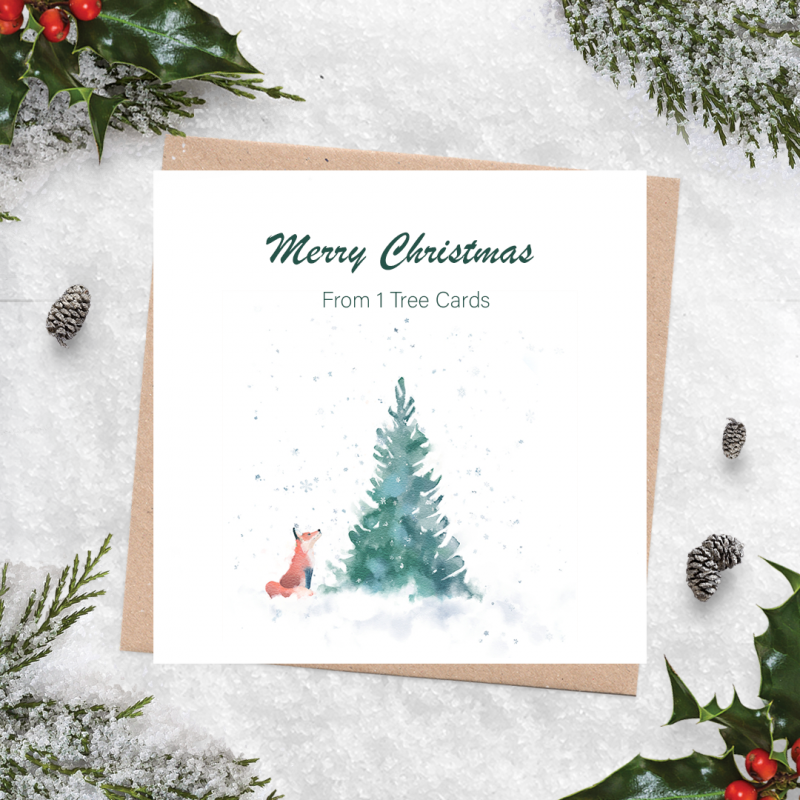 Personalised Business Christmas Cards
We offer other businesses a personalised service for their retail, in-house, B2B or business Christmas card needs.
We have a number of designs that can be easily customised to include your business name and message.
Do you have your own design that you would like printed? We can give it the magical 1 Tree Cards touch and make it an eco tree-planting wonder!
Our past clients have been delighted by our cards and have received feedback from clients saying how much they appreciated having a tree planted for them.
Get in touch to let us know your requirements and we'll be sure to send over a quote asap.
Seed Token-ed Option
Our standard cards come with a seed token to let the reciever know that a tree has been planted for them. These can grow into flowers specifically chosen to help feed declining bee populations.
Printed Option
For those who would like our cards minus the seed tokens, we offer an alternative printed option. These cards include their tree planting information printed onto the inside of each card.
Corporate Tree Planting
The negative effects that humans are having on this world are becoming increasingly obvious. Each and every one of us can do more to reduce our impact and people are starting to turn to businesses to see what more can be done.
One way in which we can help reverse the damage we've caused is to plant more trees. That's why we have one tree planted with each of our cards.
Trees not only reduce carbon emissions, they help people and animals too. The planting projects we support, in areas hit by mass-deforestation, help employ people at fair wages. Trees and their roots keep soil healthy and help return much needed nutrients into the soil so that more food can grow. This in turn boosts to the local economy too. Creating new forests also increases habitats for wildlife including endangered species.
Visit our tree planting page to learn more.
Eco Credentials
We have thoroughly researched our processes to ensure our corporate Christmas cards, along with all of our other cards, are the most sustainable on the market. They are printed on the very best 100% recycled cardstock with the highest 'Check your Paper' rating certified by the WWF.
Our envelopes are 100% recycled/recyclable and made in the UK. They have a natural eco feel and using kraft paper means there are no additional bleaching or dying processes involved.
Our printer uses the most eco friendly printing techniques and are powered with renewable energy.
Even our labels are 100% recycled/recyclable.
Our mission is to create positive change in the world one card at a time…